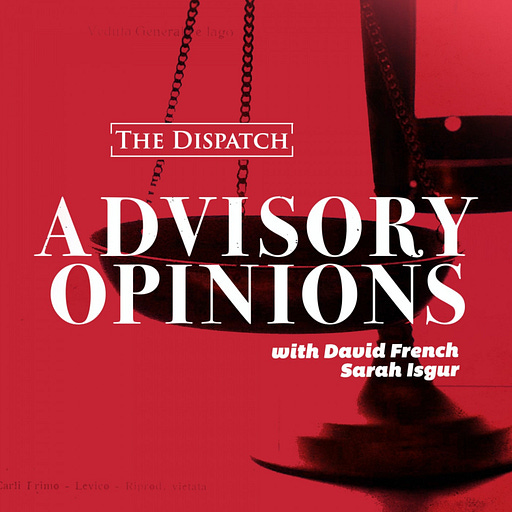 Aug 4, 2020 • 1HR 2M
12 Angry Dinosaurs
Advisory Opinions is a new podcast from The Dispatch. Hosts David French and Sarah Isgur have a weekly conversation about the law, culture, and why it matters.
Rewind millions of years and a dinosaur-killing asteroid is racing toward Earth at breakneck speed. But what exactly happened in the immediate aftermath of this event? Which species survived and which ones were met with instantaneous extinction? In a much-needed break from today's partisan political climate, David and Sarah are joined by Steve Brusatte, a professor of paleontology and evolution at the University of Edinburgh, for some in-the-field expertise on the dinosaur age. "When the dinosaurs died," Steve Brusatte explains on today's podcast, "they died literally because a six-mile wide rock fell out of the sky, traveling faster than a speeding bullet."
Fast forward to 2020, and paleontology is in high demand. "We're in this golden age right now," Brusatte tells David and Sarah. "There's fifty-something new species of dinosaurs being found every single year." But realistically speaking, most people have a limited knowledge base about dinosaurs. Was the Tyrannosaurus rex an intelligent dinosaur? Are pterodactyls birds? What are the personality traits that make a good paleontologist? Steve Brusatte has answers. Tune in for some fun facts about pinocchio dinosaurs, banana-sized T-rex teeth, and birds (which are dinosaurs, by the way). For all you Jurassic Park fans out there, you won't want to miss this one (especially since Brusatte is now a science consultant for the series.)
Show Notes:
-Steve Brusatte's book, The Rise and Fall of the Dinosaurs: A New History of a Lost World, The Genius of Birds by Jennifer Ackerman, and She Has Her Mother's Laugh: The Powers, Perversions, and Potential of Heredity by Carl Zimmer.
See omnystudio.com/listener for privacy information.