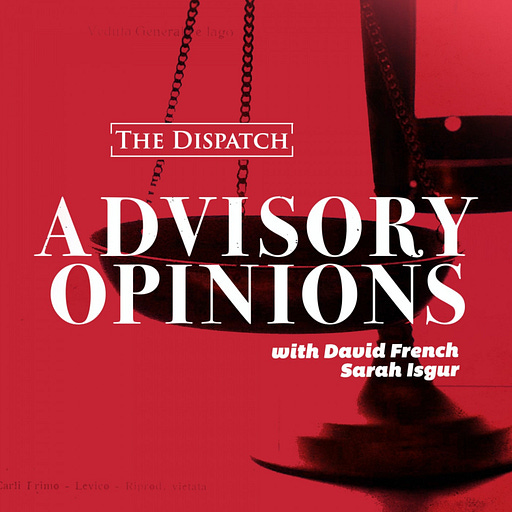 Jul 27, 2020 • 1HR 18M
99 Problems and an Election is One
Advisory Opinions is a new podcast from The Dispatch. Hosts David French and Sarah Isgur have a weekly conversation about the law, culture, and why it matters.
Our esteemed podcast host Sarah Isgur launched her new Dispatch newsletter called "The Sweep" today, in which she broke down the effectiveness of the new presidential campaigns ads. Conclusion? Biden's new ads are strategically boring to offset his opponent's predictable unpredictability, whereas Trump's play up the anarchy of the radical left. As Sarah reminds us, persuasion ads don't work. This leaves candidates with two options: 1) Run up their existing base in enthusiasm and support, or 2) Get their opponent's base not to vote.
Justice Roberts trended on Twitter Friday night after joining the four liberal justices in denying a Nevada church's application for injunctive relief over coronavirus restrictions. Religious liberty lovers sounded the alarm for First Amendment violations. But our podcast hosts are less concerned about this case's long-term effect on religious liberty case law, given the state's interest in restricting mass gatherings will soon be subverted to transcendent religious liberty concerns once the pandemic subsides. As David says, "The real enemy is not Justice Roberts, the real enemy is the coronavirus."
Speaking of Supreme Court drama, Josh Hawley told the Washington Post on Sunday that he won't support any SCOTUS nominee who does not explicitly acknowledge that Roe v. Wade was wrongly decided: on the record, and before they are nominated. Was this ridiculous fanfare to fuel his base? Our hosts have some thoughts. Sarah and David wrap up the podcast with some revisionist history on a Merrick Garland Supreme Court tenure and some parental advice on how to teach your kids risk tolerance and moral courage.
Show Notes:
-Sarah's pilot newsletter, The Sweep: "T-Minus 99 Days and Counting …" and Thursday's French Press, "Dump Trump, but Don't Burn Down the GOP."
-Friday's Supreme Court dissents on Nevada church case.
-"Sen. Hawley lays down new antiabortion marker for Supreme Court nominees," Josh Hawley's recent speech on the failures of the conservative legal movement, and Adrian Vermeule's case for common-good constitutionalism in the Atlantic.
-Supreme Court opinions: NIFLA v. Becerra, Bostock v. Clayton County, Masterpiece Cakeshop v. Colorado Civil Rights Commission , Our Lady of Guadalupe School v. Morrissey Berru, June Medical Services, United States v. Davis.
-The Coddling of the American Mind: How Good Intentions and Bad Ideas Are Setting Up a Generation for Failure by Jonathan Haidt and Greg Lukianoff.
See omnystudio.com/listener for privacy information.