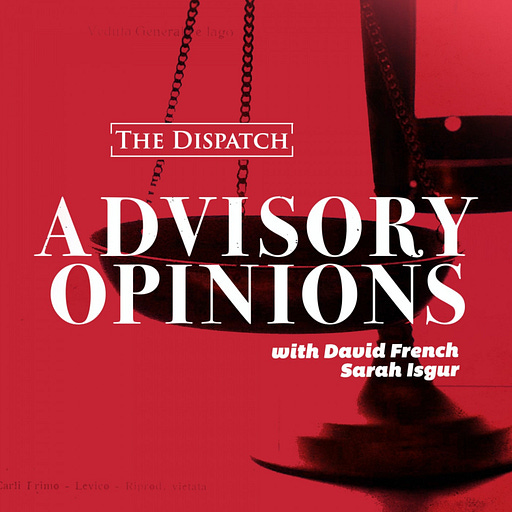 Oct 5, 2020 • 1HR 6M
Constitutional Spelunking
Advisory Opinions is a new podcast from The Dispatch. Hosts David French and Sarah Isgur have a weekly conversation about the law, culture, and why it matters.
Supreme Court oral arguments have resumed via telephone and our podcast hosts are nerding out. The court kicked off today with an interesting denial of cert from the Supreme Court on a case out of Kentucky involving Kim Davis, the county clerk who refused to certify marriage licenses to same-sex couples in 2015 for religious reasons. "This petition provides a stark reminder of the consequences of Obergefell," Justice Thomas wrote in a statement on Monday joined by Justice Alito. "By choosing to privilege a novel constitutional right over the religious liberty interests explicitly protected in the First Amendment, and by doing so undemocratically, the court has created a problem that only it can fix." On today's episode, our podcast hosts discuss the evolution of religious liberty and discrimination law, ongoing election disputes in Wisconsin and Pennsylvania, and the latest updates on the presidential campaign ad wars. Sarah and David wrap things up with a fun constitutional exercise by poking holes in the 25th Amendment and unpacking what happens when presidents die at different points in the cycle.
Show Notes:
-30 day free trial at The Dispatch, Divided We Fall by David French, Obergefell v. Hodges, Kim Davis v. David Ermold, "Applications and Implications of the Twenty-Fifth Amendment" by Akhil Reed Amar, "Is the Presidential Succession Law Constitutional?" by Akhil Reed Amar and Vikram David Amar.
See omnystudio.com/listener for privacy information.