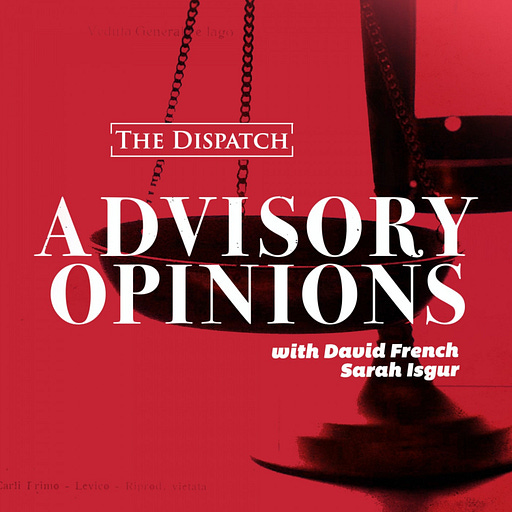 Aug 20, 2020 • 1HR 9M
Democrats Go Virtual, Bannon Goes to Court
Advisory Opinions is a new podcast from The Dispatch. Hosts David French and Sarah Isgur have a weekly conversation about the law, culture, and why it matters.
Former Trump advisor Steve Bannon was arrested Thursday—along with Brian Kolfage, Andrew Badolato, and Timothy Shea—after federal prosecutors discovered they defrauded donors involved with the "We Build the Wall" campaign, a GoFundMe that shored up $25 million in donations since its inception in 2018. The unsealed federal indictment is damning, and even shows evidence of the grifters' amusement with scamming their donors and misappropriating the funds for personal use. The grift looks a lot like what happened recently with the NRA with Wayne LaPierre, and reminds us that scamming donors is an ever-present problem on the Right. As David says on today's pod, "Right-wing institutions are bilking from angry grandpas and grandmas—their extra dollars—to fight for the people, when they're really conning the people." Catch the latest episode for some highlights (and lowlights) of the Democratic Convention, a primer on employment law in relation to the Goodyear diversity slideshow, Facebook's strike against QAnon and Antifa, and an answer to a listener question from about the citizenship of a tv show character.
Show Notes:
-Trump embracing QAnon in front of reporters, Sarah's "Mid Week Mop-Up With Mo Elleithee", parody Orrin Hatch tweet, and the indictment against Steve Bannon, Brian Kolfage, Andrew Badolato, and Timothy Shea.
See omnystudio.com/listener for privacy information.