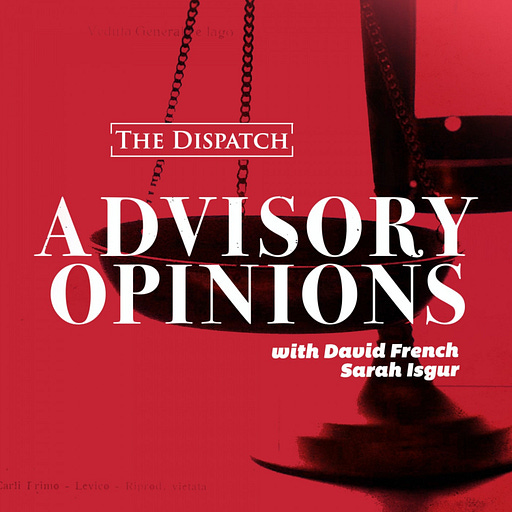 Sep 24, 2020 • 1HR 17M
Election Law Explained
Advisory Opinions is a new podcast from The Dispatch. Hosts David French and Sarah Isgur have a weekly conversation about the law, culture, and why it matters.
A Louisville grand jury on Wednesday indicted one officer in connection with the March 13 police raid that took Breonna Taylor's life. The grand jury declined to charge the two officers who fired directly at Breonna Taylor and her boyfriend that evening, instead only charging the third officer, who was outside and fired indiscriminately, with wanton endangerment. David explains the basic facts leading up to Taylor's shooting, as well as the legality surrounding police raids and the right of self-defense under Kentucky law. "You begin to see where we've backslidden in our commitment to key constitutional liberties," David explains, where "decades of bad Fourth Amendment jurisprudence has empowered violent tactics even when the stakes are low."
On today's episode, David and Sarah also address how much the chief justice matters to the trajectory of the Supreme Court and the democratic prudence of voluntary judicial restraint. After a requisite foray into all things SCOTUS, our podcast hosts are joined by Federal Elections Commission Chairman Trey Trainor, who explains the ins and outs of election law, foreign election interference, and why the FEC is paralyzed right now. Trainor also explains how campaign finance laws like the Bipartisan Campaign Reform Act have significantly weakened the national political parties while funneling money into the state parties in the process. "What's happened is the smoke filled room has moved from Washington, D.C. to each of the 50 states." Stick around for an inside scoop on the rise and fall of Kanye West's presidential campaign.
Show Notes:
-30 day free trial at The Dispatch, FEC Chairman Trainor's statement on the dangers of procedural dysfunction, "A Resignation in Time, that Saved Nine" by Josh Blackman in Reason, David's French Press: "Supreme Court Precedent Killed Breonna Taylor."
See omnystudio.com/listener for privacy information.