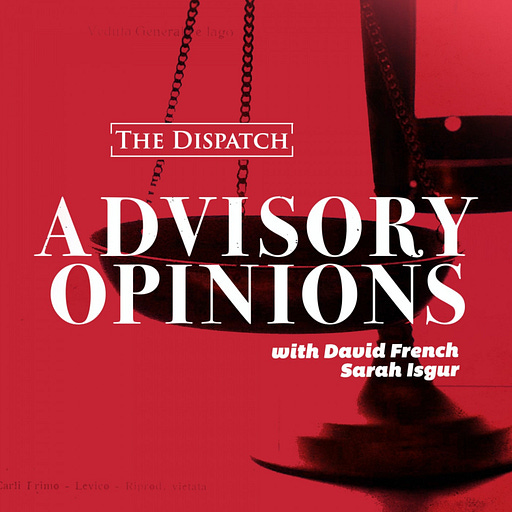 Aug 13, 2020 • 1HR 5M
Here We Go Again
Advisory Opinions is a new podcast from The Dispatch. Hosts David French and Sarah Isgur have a weekly conversation about the law, culture, and why it matters.
In 2017, an anonymous individual named "Q" began posting on a public messaging board called 4chan about "Pizzagate," a conspiracy theory alleging that a restaurant called Comet Ping Pong was really an underground child sex trafficking ring run by deep state political elites. Q quickly gained acclaim online after he continued posting unsubstantiated clues—what QAnon followers call "bread crumbs"—about a prophetic "Great Awakening" that is in store, when deep state Democrats will supposedly be held accountable for their "crimes." On Tuesday, avowed QAnon sympathizer Marjorie Taylor Greene won a Republican congressional primary in Georgia. Beyond her avowal of QAnon, she is a 9/11 truther, has called black people "slaves" to the Democratic Party, and has characterized the 2018 House midterms "an Islamic invasion of our government." What's worse, the president congratulated her win on Twitter after her victory. Given Georgia's 14th District is a reliably red district, she's almost certainly headed toward Congress. What does this mean for the future of the GOP? David and Sarah have some thoughts.
Be sure to listen to today's episode to hear our podcast hosts discuss the new police officer body camera footage leading up to George Floyd's killing, as well as the constitutional underpinnings of John Eastman's Newsweek piece questioning Kamala Harris' eligibility for office on birtherist grounds.
Show Notes:
-John Eastman's Newsweek piece on Kamala Harris, U.S. v. Wong Kim Ark, Thomas v. Lynch 5th circuit case, D.C. circuit case, statutory citizenship rights explainer.
-Police officer body camera footage leading up to George Floyd's murder.
-Professor Ted Sampsell-Jones on the charges in the George Floyd case.
-Pew Research Center polling on QAnon.
See omnystudio.com/listener for privacy information.