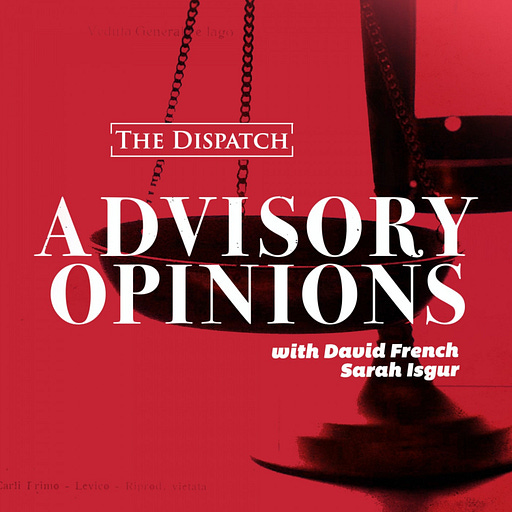 Sep 28, 2020 • 1HR 14M
Litigation and Taxes
Advisory Opinions is a new podcast from The Dispatch. Hosts David French and Sarah Isgur have a weekly conversation about the law, culture, and why it matters.
Several new polls were released over the weekend and Donald Trump is still trailing Joe Biden by roughly 7 to 10 points, depending where you look. Despite Biden's steady lead, bad takes abound in the journalism world. "Here's what happens when a race is not particularly close on the numbers," Sarah explains. "People in the media try to make it more interesting by finding tea leaves and little nuggets that no one else has found and then blowing those up into their own narrative." Sarah says it's not always that the methodology of a particular poll is bad per se, "it's that the causal relationship between the question and the result is assumed and not actually there."
For example, a series of polls from this weekend show that a majority of Americans oppose Trump's decision to fill the late Justice Ruth Bader Ginsburg's Supreme Court seat before November 3. But as Sarah points out, this is a dumb survey question for two reasons: 1) the answers break down along party lines when you look a little closer at the survey responses, and 2) it doesn't ask survey respondents whether it will change their vote, which is the only thing that matters at this point. That leads us to the New York Times' bombshell report on Trump's tax returns and whether it will be of any consequence during this election. David and Sarah argue that loyal Trump supporters are simply too attached to the president at this point to care about any new scandals that emerge between now and November 3. Tune in to this episode for an update on presidential polling in battleground states, electoral litigation in Wisconsin and Pennsylvania, and a fun conversation about our podcast hosts' favorite new documentaries.
Show Notes:
-New York Times/Siena College poll, Washington Post-ABC News poll, FiveThirtyEight polling averages in Pennsylvania, Wisconsin, Michigan.
-The New York Times' report on Trump's tax returns, Purcell v. Gonzalez.
-Republican party of Pennsylvania filed court documents over the Pennsylvania Supreme Court's Sept. 17 rulings.
-David's French Press: "It's Time for 'Pandemic Law' to End", "The Social Dilemma" Netflix documentary and "The Real Story of Paris Hilton."
See omnystudio.com/listener for privacy information.