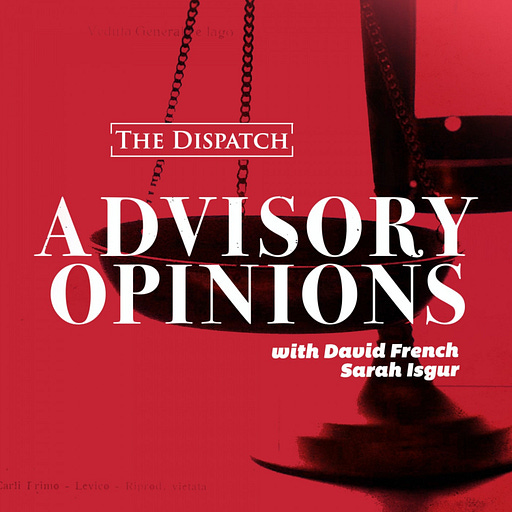 Dec 10, 2020 • 1HR 1M
Naw Dog Doctrine
Advisory Opinions is a new podcast from The Dispatch. Hosts David French and Sarah Isgur have a weekly conversation about the law, culture, and why it matters.
On Wednesday, 17 state attorneys general filed amicus briefs in support of Texas Attorney General Ken Paxton's lawsuit contesting the presidential election results in Pennsylvania, Georgia, Michigan, and Wisconsin. To make matters more interesting, President Donald Trump has said he will join the lawsuit and Texas Sen. Ted Cruz has agreed to argue the case in front of the Supreme Court. Tune in to today's episode to hear why, in David's words, "this Texas lawsuit as a legal and evidentiary matter is frivolous." Today, David and Sarah also give us an update on Sidney Powell's "Kraken" lawsuits and the Department of Justice's antitrust lawsuit against Facebook. They wrap things up by answering some reader mail about law school.
Show Notes:
-Supreme Court's one-sentence order denying injunctive relief to Rep. Mike Kelly.
-French Press: "The Kraken Is Lackin'."
-Texas Attorney General Ken Paxton's new lawsuit against Pennsylvania, Georgia, Michigan, and Wisconsin.
-The Morning Dispatch: "Checking in on the Trump Campaign Lawsuits."
-The Federal Trade Commission's lawsuit against Facebook.
See omnystudio.com/listener for privacy information.