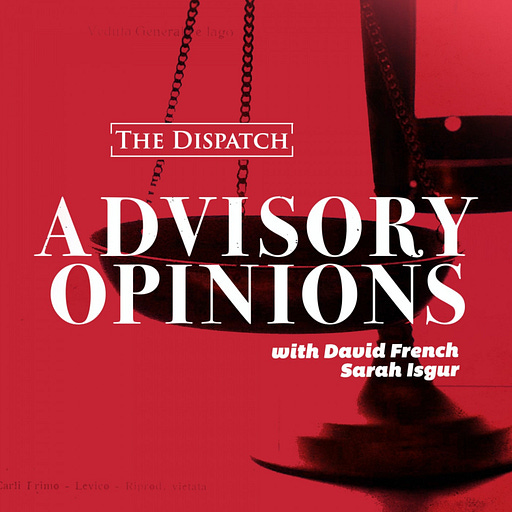 Sep 2, 2020 • 1HR 13M
Satire Meet Reality
Advisory Opinions is a new podcast from The Dispatch. Hosts David French and Sarah Isgur have a weekly conversation about the law, culture, and why it matters.
Ever since its humble beginnings in March 2016, The Babylon Bee—a Christian, conservative version of The Onion—has been a godsend for Americans who have become worn out by news outlets that take themselves too seriously. From its theological inside jokes about the prosperity gospel to its Snopeslong-standing feuds with and CNN, the Bee has made its mark in the world of satire. On today's episode, David and Sarah are joined by the Babylon Bee's editor-in-chief, Kyle Mann, who tells us about the challenges of satire writing in a cultural moment when it's not always easy to determine fact from fiction. "There is an element where it's not that our articles are too close to reality, it's that reality is too close to satire," Mann explains. "It's what makes it so hard to write because you write something that you think is so goofy and over the top and then people believe it because reality is so crazy." Listen to today's episode for a conversation about C.S. Lewis' best books, Kyle's joke-writing process, and a tell-all about why Twitter's decision to temporarily deplatform and demonetize the Babylon Bee was ironically "the best thing that could happen" to the team. Today's episode would be incomplete without its requisite dose of legal nerdery. Tune in to hear David and Sarah discuss the never-ending saga with Michael Flynn, the McGahn case, and Sarah Palin's defamation case against the New York Times.
Show Notes:
-Some of the Babylon Bee's top headlines: "Nation's Cats Endorse Trump In Hopes Americans Will Go Back To Work And Leave Them Alone", "Nation Shocked As Jerry Falwell Jr. Doesn't Turn Out To Be Man Of Upstanding Character," "Lego Introduces New Sharper Bricks That Instantly Kill You When You Step On Them," "Joel Osteen Sails Luxury Yacht Through Flooded Houston To Pass Out Copies Of 'Your Best Life Now,' " "Inspiring: Celebrities Spell Out 'We're All In This Together' With Their Yachts."
See omnystudio.com/listener for privacy information.