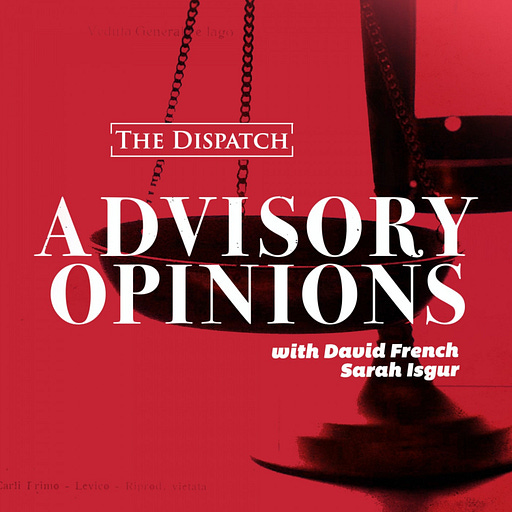 Sep 14, 2020 • 1HR 13M
Tell Somebody in Your Town
Advisory Opinions is a new podcast from The Dispatch. Hosts David French and Sarah Isgur have a weekly conversation about the law, culture, and why it matters.
For the month of August, the Biden campaign outraised the Trump campaign by a whopping $150 million. (Biden raked in $360 million last month compared to Trump's $210 million). As stark as this fundraising difference may be, is there any reason to believe it will be meaningful in the long run?A lot of this money will go toward television ads at this point, but campaign money starts diminishing in value once people start voting by mail. In other words … now. Not to mention that the fundraising difference doesn't matter so long as each candidate meets a certain threshold. On today's campaign update episode, our podcast hosts discuss these fundraising efforts while dissecting Trump's surprising lead with Hispanic voters as well as the usefulness of yard signs, door knocking, and phone banking to a campaign's overall success. Rather than waste time putting up yard signs or trying to persuade voters to vote with ideologically charged Facebook posts, Sarah argues that the most important—and statistically effective—thing you can do to boost voter turnout is text your closest friends and remind them to vote. As David points out, "It fits in with the sort of general reality that we have a large amount of influence over a small amount of people and a small amount of influence over a large number of people." Stick around for a discussion about the newest additions to Trump's Supreme Court list—also known as Sarah's close friends list—as well as David's latest Sunday French Press newsletter on the use and abuse of critical race theory.
Show Notes:
-Sign up for a 30 day trial at The Dispatch here!
-"The Sweep: Swing States and Voter Registration Trends" by Sarah Isgur and "Sorry campaign managers: Lawn signs are only 98.3 percent useless" by Philip Bump in the Washington Post, and three polls showing Trump winning Hispanic voters in Florida, The Emerging Democratic Majority by John B. Judis and Ruy Teixeira.
-"The Most Tremendous Reelection Campaign in American History Ever" by Olivia Nuzzi in New York Magazine, the newest additions to Trump's Supreme Court list, David's latest French Press, "On the Use and Abuse of Critical Race Theory in American Christianity," the New York Times' 1619 Project, and "A pandemic, a motel without power and a potentially terrifying glimpse of Orlando's future" in the Washington Post.
See omnystudio.com/listener for privacy information.