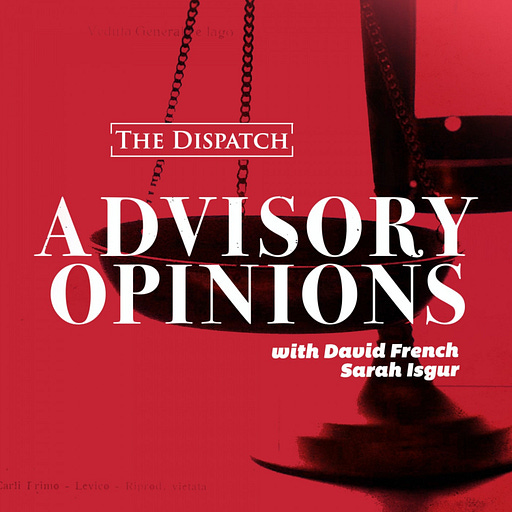 Mar 29, 2021 • 1HR 19M
The Curious Case of Roxanne Torres
Advisory Opinions is a new podcast from The Dispatch. Hosts David French and Sarah Isgur have a weekly conversation about the law, culture, and why it matters.
On today's podcast, our hosts discuss the Supreme Court's March 25 ruling in Torres v. Madrid, a Fourth Amendment case involving a failed attempt by police officers to restrain suspect Roxanne Torres using physical force. "She's claiming that they violated her Fourth Amendment rights by unreasonably seizing her," Sarah explains. "And the question becomes: Can you seize someone if they got away?" After a deep dive into Fourth Amendment jurisprudence, Sarah and David talk about the legal history surrounding hate crimes and the constitutionality of D.C. statehood. They end the episode with some career advice for their aspiring lawyer listeners.
Show Notes:
-Caniglia v. Strom, Torres v. Madrid, Terry v. Ohio, R.A.V. v. City of St. Paul, Wisconsin v. Mitchell
-"Supreme Court agrees to hear first abortion case with 6-3 conservative majority" by Alice Miranda Ollstein in Politico.