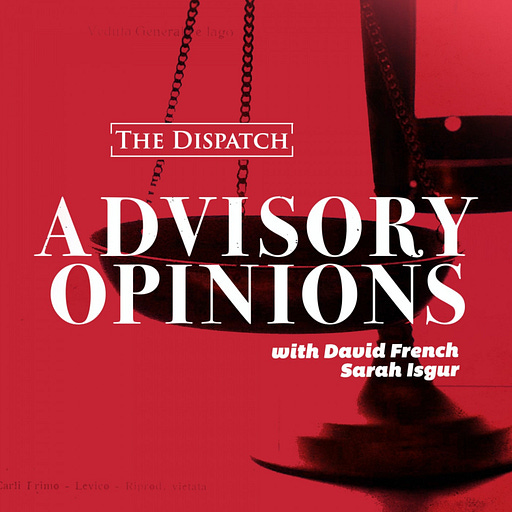 Sep 17, 2020 • 1HR 30M
The Owner's Manual of This Union
Advisory Opinions is a new podcast from The Dispatch. Hosts David French and Sarah Isgur have a weekly conversation about the law, culture, and why it matters.
After reflecting on the best and worst parts of our country's founding document for Constitution Day, David and Sarah dive into Attorney General Bill Barr's Constitution Day address at Hillsdale College yesterday, in which he defended political judgment in bringing prosecutions and railed against federal prosecutors' propensity to punish as much misconduct as possible. Our podcast hosts agree with Barr that there is an effort by federal prosecutors to expand federal criminal law to an unreasonable degree. But David reminds us that federal prosecutors are not just the instrument to be wielded by the attorney general, they are charged with carrying out laws that have been passed by Congress. "Perhaps we have gone too far with civil service protections," Sarah explains, "and that we are unable to remove anyone who is part of the permanent federal bureaucracy even for misconduct at this point really."
Most of the news headlines referencing Barr's speech highlighted his comparison between career federal prosecutors and preschoolers, as well as his rather distasteful comparison between coronavirus lockdowns and … slavery. "You know, putting a national lockdown, stay at home orders, is like house arrest," Barr said yesterday in response to a question about the constitutionality of stay at home orders. "Other than slavery, which was a different kind of restraint, this is the greatest intrusion on civil liberties in American history." Sarah suggests a new legal truism on today's episode: If you compare anything to slavery, you've already lost your argument.
Stick around for a deep dive into Lochner v. New York its relation to coronavirus lockdown court order, as well as a discussion about whether Trump can win enough Electoral College votes without winning Florida. Sarah and David wrap up today's episode with a reflection on their biggest career failures.
Show Notes:
-Bill Barr's speech at Hillsdale College, Three Felonies A Day: How the Feds Target the Innocent by Harvey Silverglate, Yates v. United States, Lochner v. New York, Morrison v. Olson, and William S. Stickman IV's Pennsylvania District Court decision, The Dispatch30-day trial at .
See omnystudio.com/listener for privacy information.