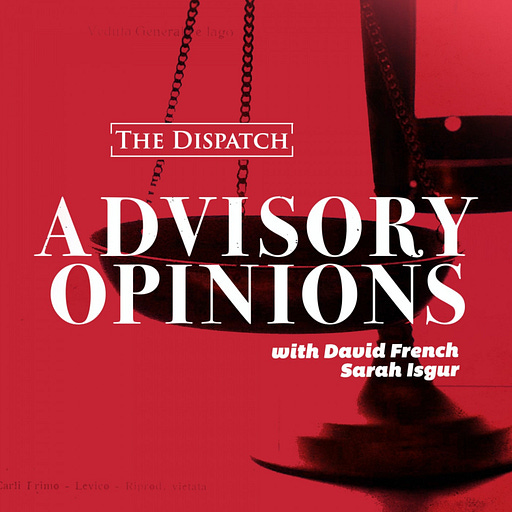 Oct 29, 2020 • 1HR 5M
Voting Battles Head to Court
Advisory Opinions is a new podcast from The Dispatch. Hosts David French and Sarah Isgur have a weekly conversation about the law, culture, and why it matters.
We've already seen record early turnout this election cycle. Our hosts have three major takeaways from the surge: 1) It means the polls are more likely to be accurate (the registered voter number is likely to reflect the actual voter number), 2) It means that we're going to see interesting shift in how both candidates' spend time on the campaign trail before Tuesday, 3) It means we have a record number of absentee ballots, which will lead to a concomitant surge in election litigation. In the hopper for the rest of today's podcast: judicial oaths of office, turnout in swing states, and election litigation galore (with a close look at Wisconsin and Pennsylvania!)
Show Notes:
-Join The Dispatch for a post-election gathering featuring congressional leadership and top policy experts November 9-10: Sign up here!
-Marquette Law poll on voters' optimism that their preferred candidate will win, Wednesday's Morning Dispatch: "Election Litigationpalooza," a statement on the Pennsylvania ballot deadline litigation from Justices Alito, Gorsuch, and Thomas.
See omnystudio.com/listener for privacy information.